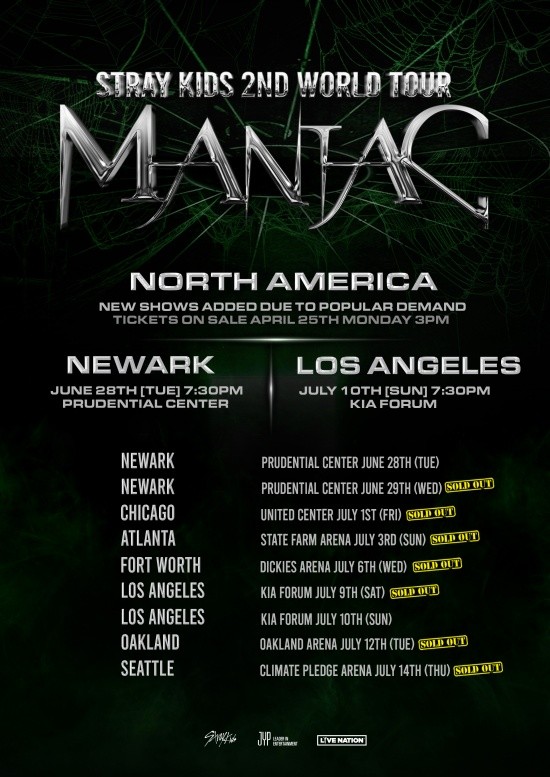 "MANIAC is on a roll"
Stray Kids are heating up North America with their 2nd world tour, "Stray Kids 2nd World Tour MANIAC."
The group is holding a total of seven concerts in North America. Stray Kids will start with Newark on June 29th, and Chicago in July 1st, Atlanta on July 3rd, Fort Worth on July 6th, Los Angeles on July 9th, Oakland on July 12th, and Seattle on July 14th.
The tickets for the concert were sold out almost immediately after its opening on April 22nd. JYP Entertainment commented, "We had decided to add Newark (June 28th) and Los Angeles (July 10th) to the list."
The domestic concerts were also sold out upon release. The Seoul concerts for a total of three days were completely wiped out.
The exclusive concerts come after a total of two years and five months. The last tour was held in November of 2019, "District 9: Unlock."
Stray Kids are gearing up for concerts in Seoul from the 29th to May 1st at the Seoul Jamsil Sports Complex. The last of the three days, (May 1st) will also have an online streaming version.
Stray Kids are visiting ten cities for eighteen concerts. Japan Kobe (June 11-12th), Tokyo (June 19th, July 26-27th).
<Photo credits=JYP Entertainment>
<Translated by=Justina Kim(Dispatch)>