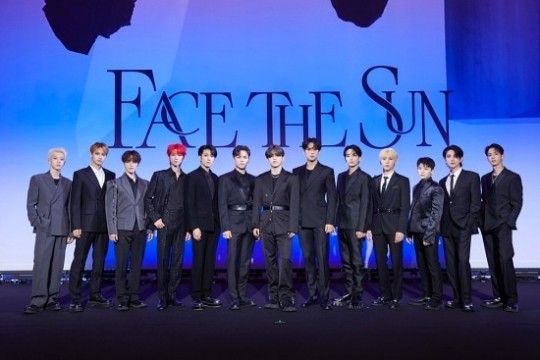 Seventeen conquered the Hanteo Weekly Chart at the same time as their comeback.
Seventeen released their 4th full-length album 'Face the Sun' on the 27th. With this album, it topped the 'Hanteo Chart' Weekly Album Chart (05.23~05.29).
Seventeen achieved the sixth consecutive million-seller with 1.75 million copies sold on the first day of album release. Within three days of release, the album sold 1,821,560 copies, making it a career high.
It broke its own best record. Seventeen surpassed the 1,335,852 copies sold in the first week of their previous mini-album ninth mini album 'Attacca' in just one day.
It also stood out on the global charts. The 4th full-length album topped the iTunes album charts in 22 countries/regions. It also made it into the Top 10 in a total of 40 countries/regions.
The new album and title song 'Hot' topped both the Daily Album Chart and the Daily Music Chart on Line Music, Japan's largest music site. It has proven to be extremely popular.
'Face the Sun' is an album that honestly contains Seventeen's ambitions. It contains the message of becoming a being like the 'sun' that has a unique and enormous influence on the world.
The title song 'Hot' is a hip-hop genre with a western guitar sound that stands out. In the lyrics, the figure of Seventeen advancing on their own path facing the scorching sun head-on.
Meanwhile, Seventeen will be actively promoting with 'Hot'.