At least 151 people have died, as of confirmed cases at 11:00 (KST) yesterday, in a horrific stampede near the Hamilton Hotel in Itaewon, as huge Halloween crowds surged into a narrow street. With over 100 people who are injured and being hospitalized, fire officials have reported that the death toll could rise further.
A wave of condolences from celebrities regarding Seoul's Itaewon Halloween stampede continues.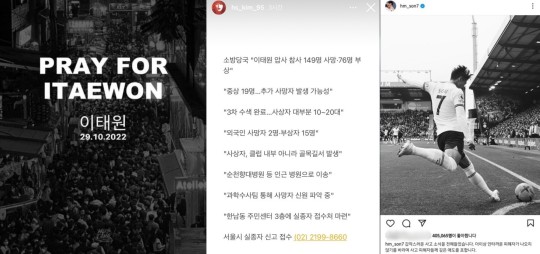 On October 30th, actress Kim Hye-Soo posted an Instagram story which read titles of news reports regarding the Itaewon Halloween stampede. Some of the titles read, "149 confirmed dead, 78 injured" and "2 foreigners dead, 15 foreigners injured" as well as "Please report the missing to the Hannam-dong Community Center."
Tottenham Hotspur player Son Heung-Min also left a note on his Instagram on the same day. It read, "All my thoughts are with you all back home in Korea. I am heartbroken to be reading this new… I pray that there will be no more unfortunate victims."
Singer Kim Chang-Ryeol said, "This is something that should never have happened. All our thoughts to those who have lost their loved ones." Amidst the posts, broadcaster Sam Hammington and FT Island's Song Seung-Hyun also posted a memorial poster with the words 'PRAY FOR ITAEWON' written on a black background.
Announcer Son Mina left a condolence message too. "I heard the devastating news last night. My heart dropped immediately and am more than devastated. I wish that the injured will recover quickly.
In addition, Norazo's Jobin, model Lee Young-Jin, actors Lee Yu-Jin, Kim Gyu-ri, f(X)'s Luna, announcer Choi Hee and many other more sent condolences on social media throughout the weekend.