On September 14, TOMORROW X TOGETHER released the music video teaser for 'Back for More' on the Hive Labels YouTube channel.
At the beginning of the video, the stage entrance was shown. Then, Anitta's Silhouette and the members in colorful suits appeared. Members left a strong impression with their deep eyes.
'Back for More' is a pre-released track from TOMORROW X TOGETHER's 3rd album 'The Name Chapter: Freefall', which will be released next month.
The song tells us that there are magical moments even in everyday life, and reuniting with 'you' would be one of those moments.
With its disco genre and trendy Latin pop elements, this song was created in collaboration with Brazilian pop star Anitta. The song was unveiled on the MTV VMA stage on Wednesday (September 13).
American music media Consequence reported, "the boy band recalled the classic VMAs stage show of Michael Jackson."
According to USA Today, their stage was ranked 5th among 2023 MTV VMA performances following Shakira, Demi Lovato, Olivia Rodrigo, and Nicki Minaj.
Time Megazine called it the "most interesting collab" and stated 'Back For More' beautifully blending their sound with that of Brazilian funk. T." The Newspaper gave a favorable review, saying, "The artists delivered a lively performance with killer dance moves on both their parts."
In addition, Billboards, NME, and Rolling Stones also paid attention to TOMORROW X TOGETHER's stage.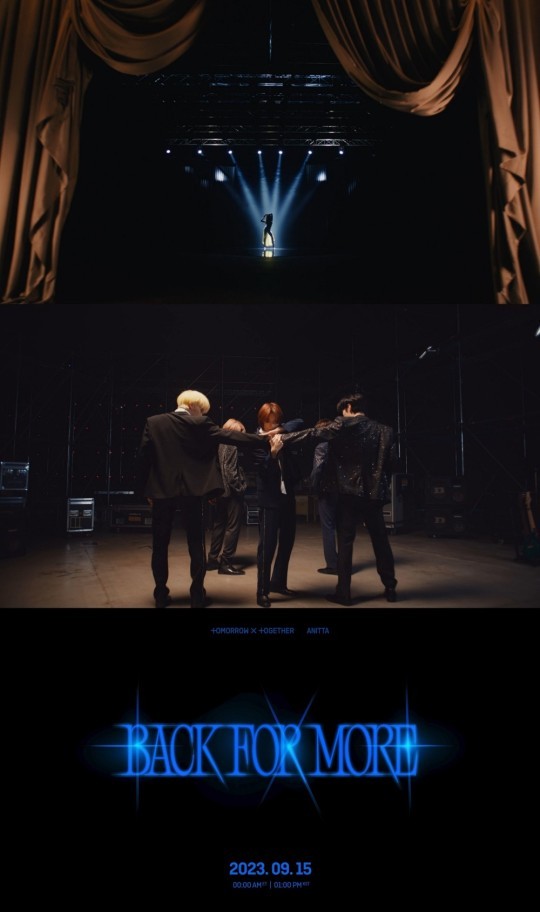 TOMORROW X TOGETHER's 3rd album 'The Chapter of the Name: Free Fall' will be released on September 13.